Fruit Fiesta is a 3 reel progressive video slot game that has three paylines.  It has a fixed coin size of .25, and a three coin maximum bet of .75.  There really isn't anything complicated about Fruit Fiesta.  The interface is pretty user friendly, and the symbols that are used are fairly recognizable.  If not, there are plenty of help files available to make playing the game much easier.
Fruit Fiesta has a simple fruit filled theme that is easy to understand and enjoy.   On the front of the machine, the game shows graphics that show how to reach various payouts.  There is an option to pick either regular or expert mode, or speed up the game by using QuickSpin.  You can also turn the sounds on or off.  In addition, let the game automatically place your bets by using the AutoPlay Option.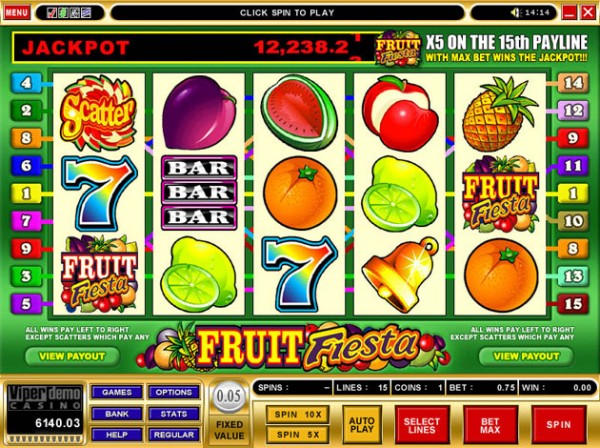 The Progressive Jackpot
But the most exciting thing is that Fruit Fiesta's progressive jackpot begins with $800, and it gets higher and higher until someone wins.  The average progressive jackpot has been around the 25k mark.  Unfortunately, the jackpot increases each time someone loses.  A portion of their losses go towards the jackpot.
Fruit Fiesta is filled with winning symbols such as sevens, bars, pineapples, plums, oranges, watermelons, bells and the Fruit Fiesta, which is wild.  This means that the Fruit Fiesta symbol can be used as a part of any winning combination.  Getting all three Fruit Fiesta symbols makes you the jackpot winner, but there is a catch.  You must play all three paylines, and get 3 Fruit Fiesta symbols on the third payline.
So basically, you must bet 3 coins and place the maximum bet if you want to be eligible for the progressive jackpot.  This can be done by placing a coin separately on each payline.  Or, or you can just hit the BET MAX button instead.
Non-Progressive Payouts
However, you can also win non-progressive jackpots if you get all three Fiesta Fruits on either the first or second paylines.  Remember that the Fiesta Fruit is wild.  Get three of them on the 1st payline and win 800 coins.  Get three of them on the 2nd payline and win 1600 coins.
When it comes to payouts with fruit symbols, the pineapples have the highest payouts whenever you get three of them on the same payline, and that is 30 coins.  Land on 3 plums and win 25 coins.  Win 20 coins with 3 oranges.  Win 15 coins with 3 watermelons.  Also, get 3 "any fruit" symbols and win of 2 coins.
Also, note that fruit symbols are not the only symbols that provide non progressive payouts.  You can also win with different types of sevens and bars.  For instance, get 3 striped sevens on the same payline and win 500 coins.  Or, get triple bars and win 100 coins.  The smallest payout in Fruit Fiesta is 8 coins if you get 3 bells on the same payline.
Possible Disadvantages
Just like with most video slot games of this nature, there will be a few complaints, and Fiesta Fruit is no exception.  First, it does not have a gamble bonus game.  Secondly, many of the fruit symbols don't have high payouts.  Remember that the highest fruit, which is the pineapple, only gives you 30 coins for the winning combination.  Lastly, Fruit Fiesta does not have scatter symbols.  However, this very exciting game has wild Fruit Fiesta symbols, and this is a huge advantage.
All in all, Fruit Fiesta is easy to play, and it has a progressive jackpot.  It also has a colorful and playful theme.  It is a very exciting game that will keep you mesmerized for hours.